BRISTOL MOTORS
AWARD WINNING RESTORATIONS ESTABLISHED 1976

'HOME OF JOHN LENNON'S ROLLS ROYCE'
Bristol Motors is located in Victoria, British Columbia, Canada. We are now in our thirty second year of operation and have always been dedicated to automobile restoration of the highest standards on both English and American cars. All mechanical, upholstery, body and paintwork is done on our own premises so we can oversee every detail to ensure it is done to perfection. Our fully equipped in house machine shop is able to handle everything from boring out a Packard Twelve block for new pistons to sleeving a corroded XK120 brake master cylinder back to standard dimensions. We have also been the custodians of John Lennon's Rolls Royce since 1993.
SPECIALIZING IN MORGAN PARTS AND RESTORATION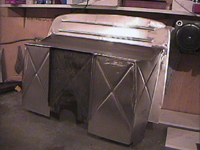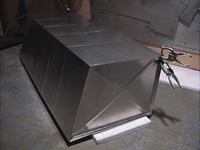 Special grooved damper Plus 4 bulkhead fabricated Plus 8 alloy fuel tank in the
bronze for better greasing. in our shop. process of fabrication in our shop.


Modified stainless hinge pins Leather upholstery done All types of obsolete wheel and
drilled for oiling. in our shop. master cylinders sleeved in bronze.
We manufacture many parts for Morgan cars in our own shop, from hard chrome kingpins and bronze or
Vesconite bushes to complete wood body tubs, skinned in alloy or steel. Click on the blue Morgan car
listings below to see some other examples of our work. Email Jim at jim@bristolmotors.com for prices
or information. Advice always freely given.
See also the website dedicated to our entry in the Around the World in Eighty Days Motor Challenge in which our 38 Packard Super Eight won the Vintage class. This was a grueling 20,000 mile race around the world from May1st to July18th of 2000. Click Here
(Click on the underlined highlighted text below to view pictures)
BRISTOL MOTORS 629 CHATHAM STREET VICTORIA BRITISH COLUMBIA CANADA V8T 1E2
250-388-5923
Website designed, built and maintained by Jim Walters. Contact him at jim@bristolmotors.com